High Temperature Mesh Belts
MacGregor and Moir supply High Temperature Mesh Belts for use in a variety of furnaces and applications. These applications can be as diverse as bakery ovens carrying bread products to furnaces which are heat treating and hardening turbine blades for use in jet engines and power generation equipment.
Our belts are designed to provide: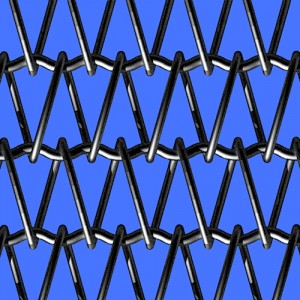 Hot Strength
Dimensional Accuracy
Stability under load
Resistance to stretching
Cleanliness
Working with our customer base, our application engineers will understand the processes and furnaces to offer a belt which will provide the above characteristics for most applications. We can offer belts manufactured from a range of High Temperature and Corrosion Resistant Metals to increase strength, reduce corrosion and improve cleanliness thereby helping improve our customers production processes.
Available Metals are:
Chrome Molybdenum
304 Stainless Steel
309 Stainless Steel
310 Stainless Steel
314 Stainless Steel
316 Stainless Steel
321 Stainless Steel
37/18 Nickel Chrome
80/20 Nickel Chrome
Inconel 600
Inconel 601
These metals are available in a variety of gauges to allow weaves to British Standards or manufactured to a specific requirement.
Standard Weaves Include:
Balanced Spiral – this type of weave is suitable for use in the majority of applications and is available in a wide range of metal and gauges
Flat Spiral – a flat spiral belt offers a very closely assembled mesh which provides a very smooth surface making it suitable for a product with a small base requiring uniform support
Double Balanced – a modification to the balanced weave type providing larger openings and increased strength
Rod Re-enforced – provides excellent tensile strength which when coupled with a heavy duty weave make it a good choice for carrying heavy loads, especially at high temperatures
Duplex – similar to rod re-enforced mesh with a closer weave providing a smoother surface to carry smaller parts
Cordweave – a cordweave belt provides an extremely close mesh which is ideal for carrying small parts such as nuts and bolts, this type of mesh can also be provided with side plates